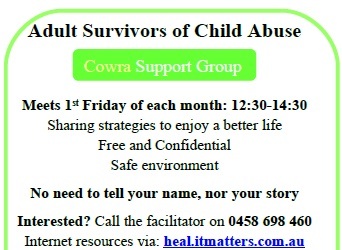 Adult Survivors of Child Abuse - Cowra support group:
another option to help you heal from the trauma of child abuse.

Adult Survivors of Child Abuse - Cowra Support Group

All the resources are provided to you courtesy of the Cowra support group. They may or may not help you. Consider carefully. In doubt consult your therapist.
What's New


Current meetings have special conditions due to COVID: You will be required to provide your full name and contact details to the facilitator who will only provide them to the appropriate authority in case traceability from a COVID-19 case is required. This is an attempt to maintain confidentiality unless the health of the community is really at stake. You also need to confirm your attendance by COB Thursday by calling this number. Thank you and take care.


About the support group
Popular titles:


The Courage to Heal, Ellen Bass, Laura Davis. (For female survivors of sexual abuse)


Victims no longer, Mike Lew. (For male survivors of sexual abuse)


The Silent Crisis, Amanda Robinson. (Focuses on prevention - advice for parents)


>> access list of Publications
Pattern of behaviour: this is a list of behaviours or observations which the support group discusses on a regular basis and which therefore seems to fall in a category of pattern or behaviours which most survivors may adopt. Note that this does not mean ALL survivors experience ALL such behaviours. This list may be helpful when trying to change your behaviour and improve your daily life.


Hints: these are strategies shared by attendees of the support group over time.

Setting boundaries

Avoiding pre-empting

Various other hints or quotes as at 20 October 2016
About the Support Group
Introducing the support group formed early 2011 to assist survivors of any form of child abuse and their family and friends to find options to heal.


What is the support group about? sharing ways of handling the challenges of daily life which may help someone else to improve their own life.The support group provides information on existing resources: books, organisations, helplines, websites, articles, strategies, peer support, workshops, and access to professional counselling.

The group respects your privacy: There is no need to disclose your name. There is no need to tell your story.


When does the support group meet?


How is the support group run?

During each meeting we welcome new members, read our meeting agreement to remind us on why we are here, discuss how we have been, and start sharing strategies or hints which may help one another. We also get notes on items discussed at the previous meeting, and on upcoming workshops and events focusing on healing. You may take a break from the meeting anytime whilst respecting the group.


>> read our meeting agreement

>> read our responsibilities

>> browse our group resources




What if you are interested to join?

Contact this number, have a chat, and assess whether this group is what you are looking for. You will also be given the opportunity to meet one or more group members prior to attending your first meeting. This will make your first attendance within our welcoming group, a safe and enriching experience.